Brand:

MPOW
Mpow CA018 Universal Air Vent Magnetic Car Phone Mount Holder for iPhone/Android – Pack of 2
Karachi 2 Days | Other City : 3 to 4 working Days
Delivery
Karachi 2 Days | Other City : 3 to 4 working Days
---
Good Stability: Mpow magnetic mount holder is designed with a sturdy rubber base, and the cruciform slot on the tail of the mount can meet the different thickness of the blades. This mount material not only has good stability but also does not scratch the vent.
4 Powerful Magnets: Mpow car phone mount holder has four powerful magnets, magnetic car mount produces an intensive force of attraction that will hold any smartphone, ensure your phone stay securely when you are driving.
Cell Phone Protective Film: Use one of the provided protection films on your phone before placing the metal plate, then, place the metal plate over the film to prevent any damage to the device by the adhesive tape.
360-degree Rotation: The car phone mount allows rotate your smartphone and swivel your display as you please. The base of the mount remains fixed into the air vent of your car and does not move, no matter how much swiveling or rotation you do. Meet your different needs and habits.
Easy to Install and Remove: Universal fits for cell phones, mini tablets, etc. Just push the car mount holder into the air vent. Only the magnetic force can ensure safety operation, This car phone mount Eliminates the unsightly features of most car mounts.
Effortless Installation
1. Insert the mount in the Air Vent Mount in your car.
2. Place the magnet metal plate in your case between the cover and the phone, Or stick on the round magnet metal on your phone or GPS
3. And your phone is go to go!
360 Degree Swivel
Innovative ball head construction allows you to quickly adjust to optimal angle in 360 degrees. No Blind Side.
Dual Setting Clip
Mpow car mount holder offers two thickness settings to ensure a secure fit onto your air vent. One is for thin air vent blade, the other is for thick air vent blade.
More Than a Holder
Mpow Grip Magic Air Vent Mount Holder can also be used as a kickstand to hold the device in place on a flat surface.
Please NOTE
1.This car mount may not fit in with AC vent.
2.This car mount can hold phones (with cases) that weigh under 7.05 ounces.
3. Thick cases such as Otter boxes, and unsmooth cases may not work well with this car mount.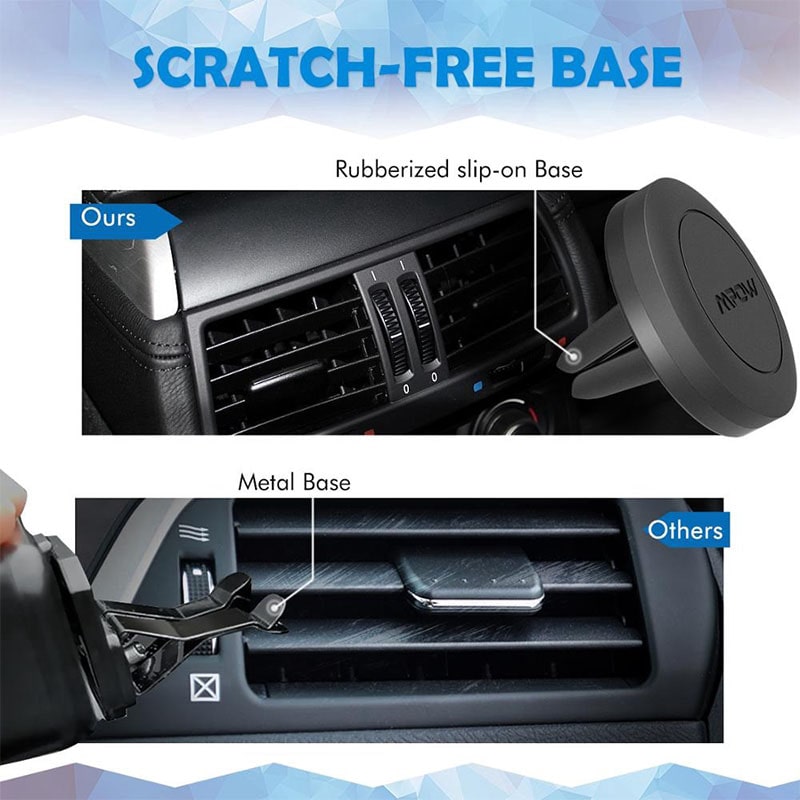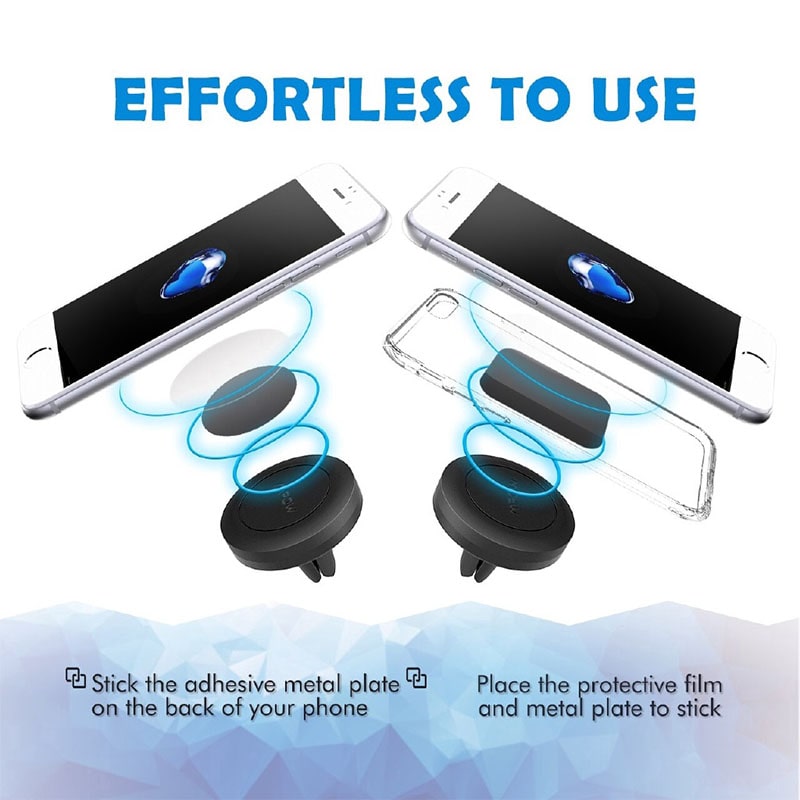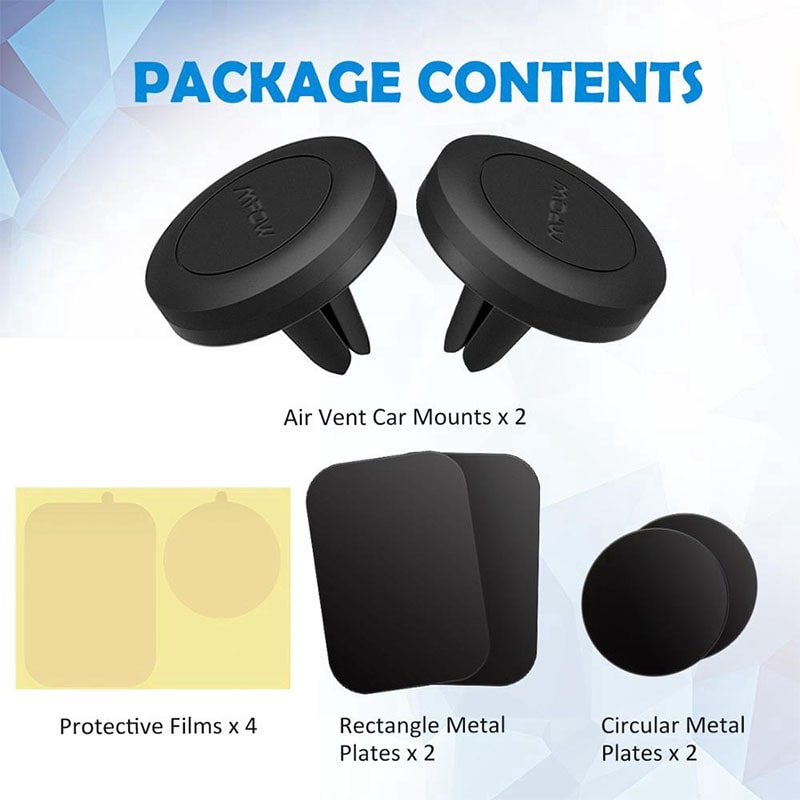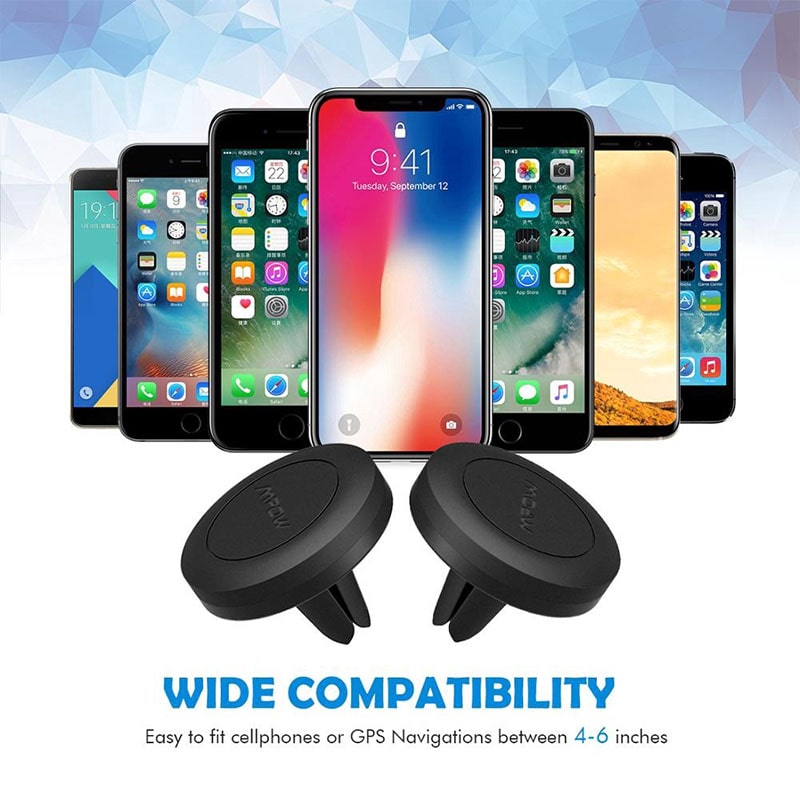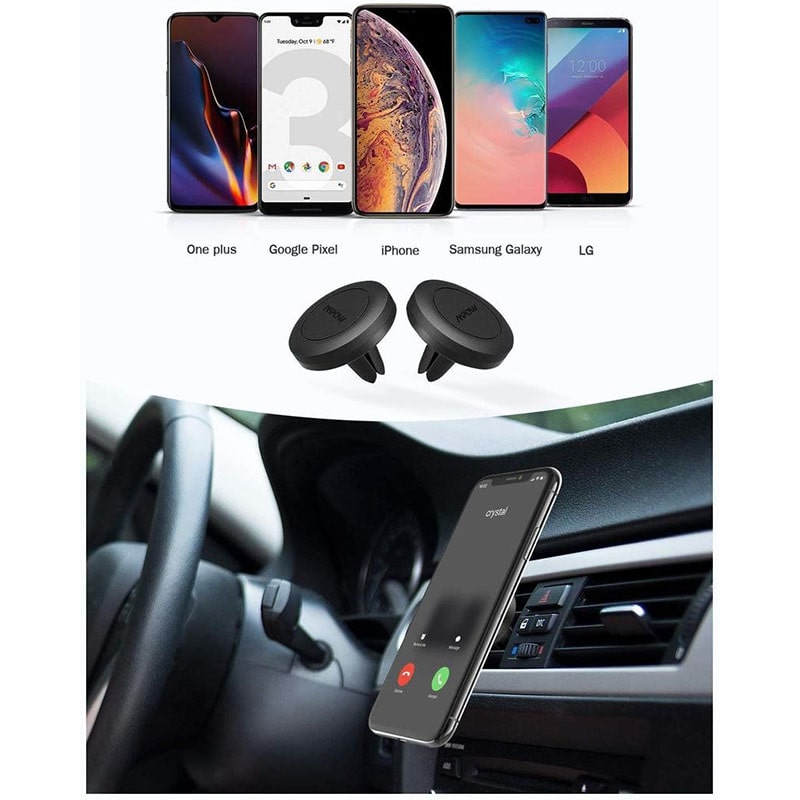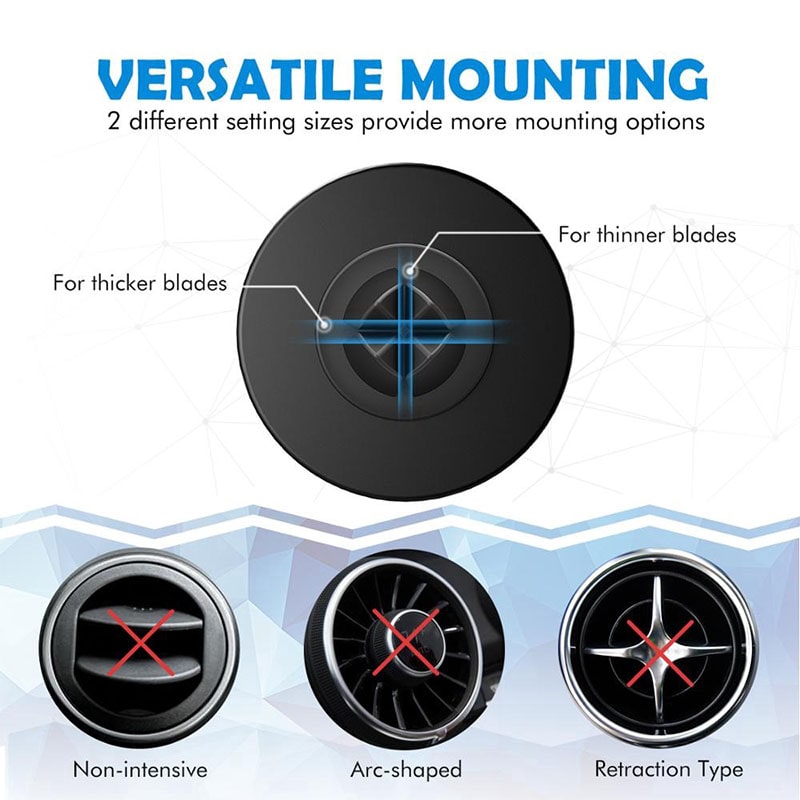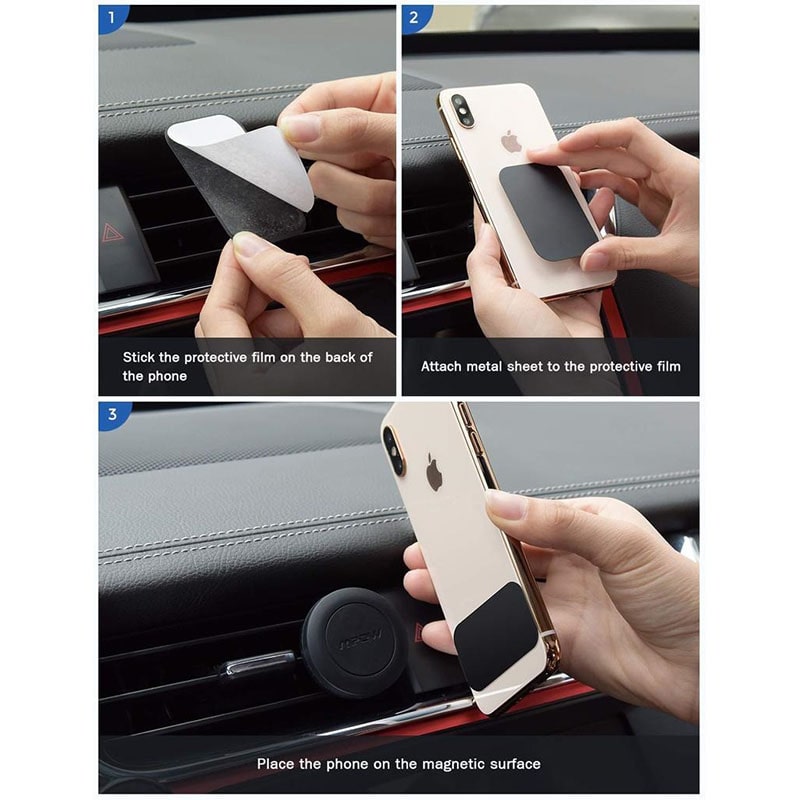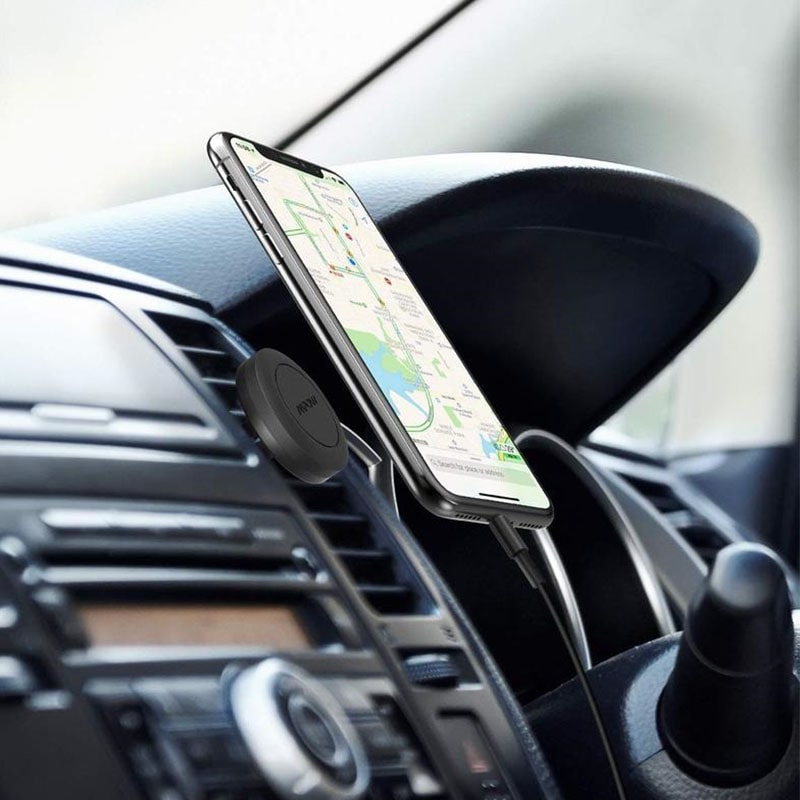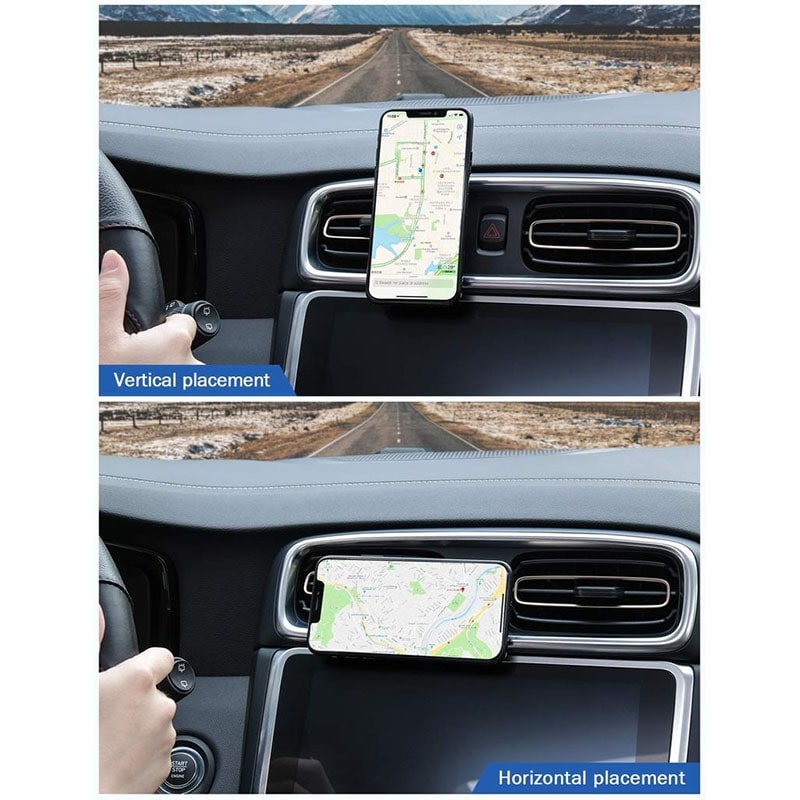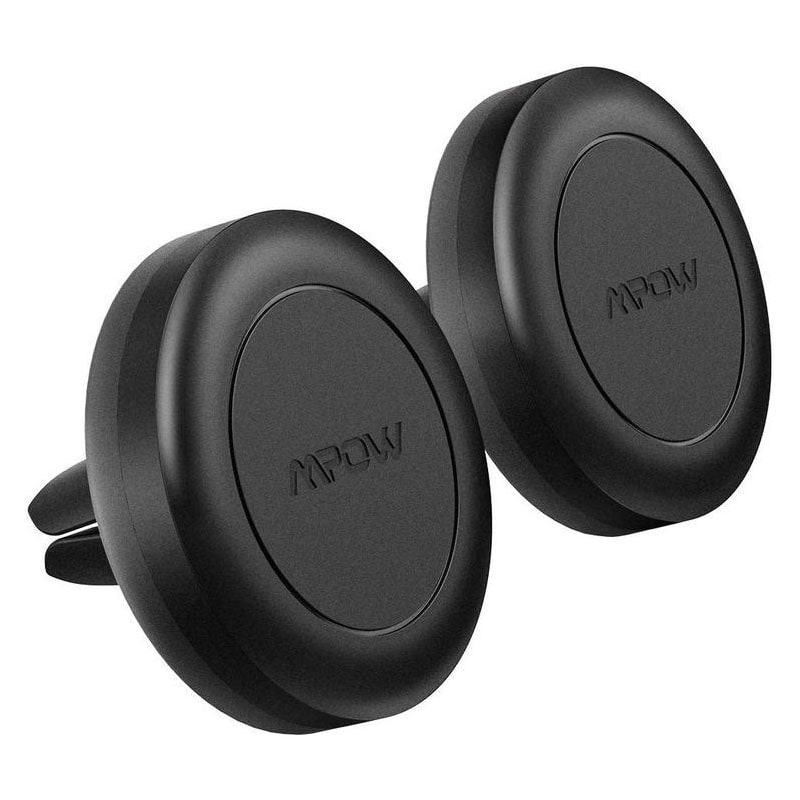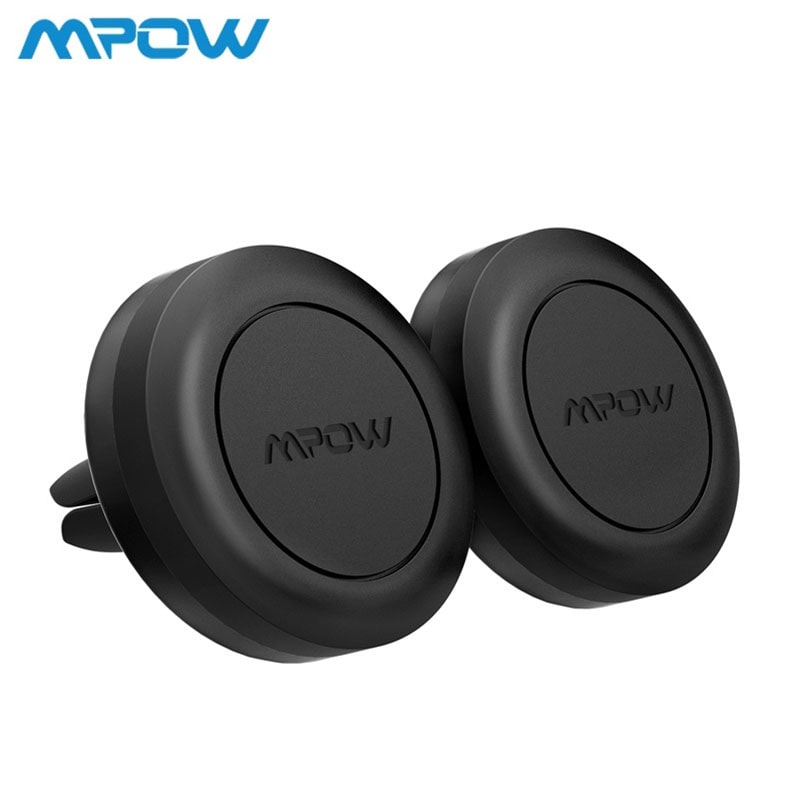 2 PACK MOUNT HOLDER FOR EASIER USE: Designed with a sturdy rubber base and a powerful magnetic head for holding smartphones, our air vent universal car mount holder is much easier to use than others due to its simple and complementary design. 1 backup for instant replacement. S
TURDY BASE: The high quality rubber construction of the base guarantees the base will solidly hold the magnetic head of the mount regardless of road vibrations or impacts.
EASY TO INSTALL AND REMOVE: Universal fits for cell phones, mini tablets and etc. Just push the holder into the air vent. No cradle, no bracket, no clamp, only the magnetic force can ensure a safety operation.
MULTI-COMPOUND MODE: Use one of the provided protection film on your phone BEFORE placing the metal plate. Then, three stick modes are available: put the metal plate between your case and the phone; simply stick the adhesive metal plate on your phone; Use our built-in metal plate case.
This video(s) is for guidance and usage purposes. For actual product, kindly check details & images above.